My mother was a very good cook – modest by today's foodie standards, but still good. Despite her desire, as a first generation Italian American, to get the garlic smell out of her house, she gave in to my father on occasion, and we had Neapolitan food. All of the memorable dishes were from Christmas eve – Southern Italian tradition was to have sette pesce – seven different kinds of fish, and while we never ate that many, at least had anchovies, squid, and eel. The anchovies were for a pasta sauce, the eels were cooked in a deep, rich tomato sauce, and the squids were either cooked in the same tomato sauce, but with lots of hot pepper, or stuffed with breadcrumbs, oregano, parsley, and garlic – again in spicy tomato sauce.


My father loved an "all-day" tomato sauce with three kinds of meat – veal, pork, and beef – which were simmered for hours. The result was a thick, intensely flavorful sauce, and tender meat.


The all-day sauce prepared by my grandmother had bulbs of garlic – or so it seemed -, cups of extra virgin olive oil she brought from New Haven (extra virgin, unrefined oil unlike my mother's tasteless Filippo Berio Extra Refined Olive Oil), and a great fatty hunk of pork shoulder. Shovelfuls of oregano and basil of course, chianti, and some hot pepper flakes. We couldn't believe how good it was.


Inspired by my grandmother, here are some recipes for my pasta sauces:
All-day Sauce
This does not have to cook all day, but simmer for about 3 hours. The extra time is worth it.
* 1 large can San Marzano tomatoes, preferably low sodium. There are some good brands now available at Whole Foods

* 1/2 can tomato paste, preferably low sodium. I like to add my own salt where I have more control

* 1 cup red wine. This can be inexpensive wine.

* 1 large handful fresh basil, chopped; and 1 Tbsp. dry basil

* 5-6 lg. cloves of garlic, coarsely chopped

* 2 tsps. sugar

* 5-6 Tbsp. olive oil (I think that's the amount. I don't ever measure; but be generous, and it should cover the bottom of a large pot with more than a thin covering.)

* 5-6 shakes hot pepper flakes

* 1 1/2 lbs. pork shoulder, bone in (or bone out, not too much difference)

* Salt and ground pepper to taste
- Sautee the garlic and spices in olive oil for about 5 minutes, careful not to brown or burn the garlic


- Add the tomatoes, tomato paste, sugar, and wine. Cut up the tomatoes with a knife or sharp cake knife so that they will cook more evenly. Stir well


- Add the pork


- Lower heat, and simmer for about 3-4 hours until pork falls off the bone, sauce has been reduced to be thick and not watery. Stir every hour or so.


- Serve over spaghetti or spaghettini (recipe is for 1/2 lb. of pasta, more or less. Same for all recipes to follow)


Spaghetti with Anchovy Sauce
Even people who say they don't like anchovies will like this sauce. The anchovies blend perfectly with the white wine, lemon, and garlic to give a spicy, fragrant, light pasta dish. It takes no more than ten minutes to make!
* 1 can flat anchovies

* 5-6 Tbsp. olive oil (as in the above recipe, enough to liberally cover the bottom of the frying pan.

* 5-6 large cloves of garlic, coarsely chopped

* Juice of one lemon

* 5 liberal shakes of hot pepper flakes

* Large bunch of parsley, coarsely chopped

* 5 grindings black pepper

* 1 1/2 cups white wine (ordinary wine will do, but not chardonnay, which is too strong)
- Sautee the garlic and anchovies in the olive oil, mashing them both as you sautee. Cook only until they are mashed, and no more. Additional cooking gives a very strong fishy taste which you want to avoid at all costs.


- Add the hot pepper flakes and stir for a few seconds
- Add the wine and parsley, ground pepper, and stir well.


- Simmer for about 5 minutes until the alcohol has evaporated (taste to see – there will be no bitter alcohol taste), and turn off the heat.


- Add the lemon juice


- Serve over capellini, angel hair, or spaghettini. The classic is with capellini or angel hair, for these really catch the sauce.


- Plate and garnish with chopped parsely


Spaghettini al Olio, Alio, e Peperoncino (Olive oil, garlic, hot pepper)
This is THE simple Italian pasta dish. Minutes to prepare, and wonderful. When prepared properly (the garlic has to be lightly browned – more and it gives a bitter taste; less and it has none of the sweetness brought out by the browning), it is the sweetest, most flavorful dish….surprising because of the few ingredients.
* 5-6 Tbsp. olive oil (again, should liberally cover the bottom of the pan

* 6-7 lg. garlic cloves, cut into thin slices (not transparent thin)

* 5-6 liberal shakes hot pepper

* ground fresh black pepper
- Sautee the garlic in the olive oil, being very careful to get it golden brown and no more. Remember that the oil will stay very hot for a few minutes after you turn off the flame, so you have to anticipate the browning process…which is why this recipe is simple, but then again not so simple.


- Serve over 1/2 lb. spaghettini


Pasta with fresh basil
This is perhaps THE SIMPLEST pasta dish, with none of the careful watching required in the one above. You will be surprised to see how these few ingredients with no real preparation blend into an incredibly tasty dish. I learned it from a friend in Paris in the early 70s. When he proposed it, I immediately vetoed the idea. "Are you kidding?", I said. "Hey, we're in Paris, surrounded by the best ingredients in the world".
"Trust me", he said; and it turned out to be one of my favorites today.
* 3 lg. cloves of garlic, crushed (with a flat knife to release the oils)

* 4-5 Tbsp. olive oil

* 1 large handful fresh basil leaves (clean the leaves from the stems and use only the leaves. More is better)

* 1/4 cup freshly ground parmesan cheese

* ground pepper

* 1/2 lb. spaghetti
- Place a bowl on a warming tray, and in it put the oil, garlic, and basil leaves and toss


- Let stand for about ten minutes while you are cooking the pasta.


- Toss the pasta into the warmed basil mixture, plate, sprinkle with parmesan and ground pepper


Spaghetti Marinara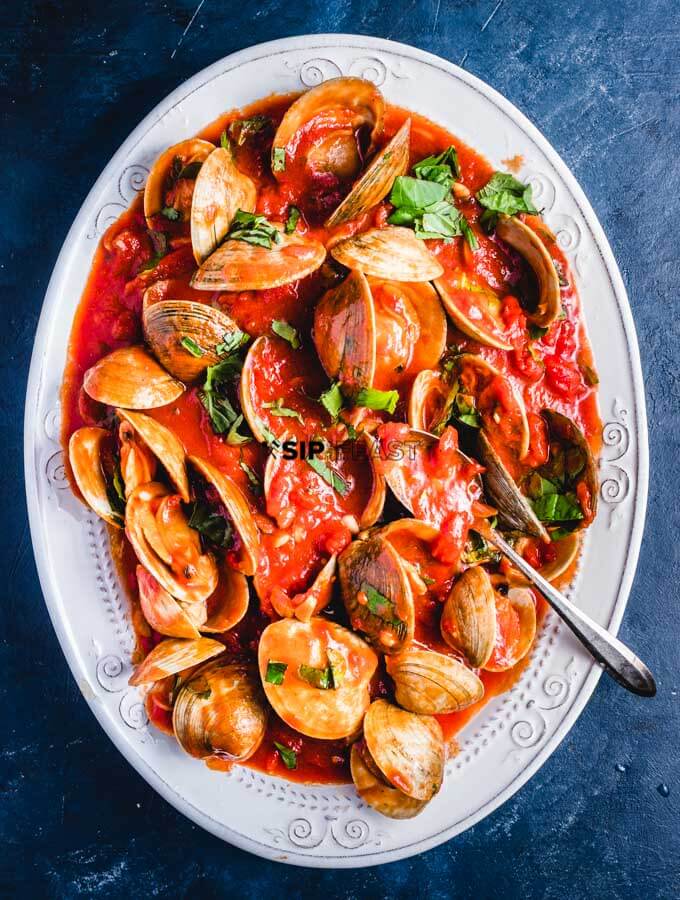 Spaghetti marinara in America has come to mean a simple meatless tomato sauce; but in Italy it is with sea food (marinara = from the sea). It is a super dish, not hard to prepare, but takes a bit more time than the above recipes. In my mind it is well worth it, for it has an intense seafood taste (i.e. from the squid, shrimp used to flavor the sauce) and the variety of seafood served on top is exciting.
* 1 lg. can San Marzano Italian tomatoes

* 1/2 can tomato paste

* 1 cup red wine

* 1/2 lb. cleaned squid, cut into 1" pieces (use both tube bodies and tentacles)

* 1/4 cup olive oil (should be about 5-6 Tbsp.)

* 5-6 lg. cloves of garlic, coarsely chopped

* handful of fresh basil, chopped

* 2 tsp. dried basil

* 2 tsp. sugar

* 12 pasta neck or littleneck clams

* 1/2 lb bay scallops

* 12 large shrimp, steamed and peeled
- Sautee the garlic, basil, and hot pepper flakes for 2-3 minutes


- Add squid, and sautee for another 5 minutes


- Add tomatoes, tomato paste, sugar, and wine, and stir


- Simmer for about three hours, stirring every hour, adjusting salt (also spices)


- Steam and peel the shrimp, set aside


- Just before serving, steam the clams, reserve, and cook the bay scallops in the steaming liquid for 2-3 minutes. DO NOT OVERCOOK


- Plate the pasta, cover with sauce, and divide equally the clams, shrimp, and scallops on each plate


- Garnish with chopped fresh parsley and ground pepper and serve.